Alec Soth
by #ClosedButActive
Currently, the solo exhibition of the US-American artist Alec Soth with large-format works by the artist is not accessible at KUNST HAUS WIEN. The temporary closure has imposed an involuntary pause on the exhibition. Alec Soth's works are particularly impressive in the exhibition context. 
An alternative is the examination of Alec Soth's pictures through his photo books. Like many other famous photographers, Soth's career took its starting point here. With the series Sleeping by the Mississippi he set a photographic monument to the Mississippi and the side stages with the photo book of the same name. It is one of the most important publications in recent photo book history, which is why the exhibition at KUNST HAUS WIEN takes its starting point in the series.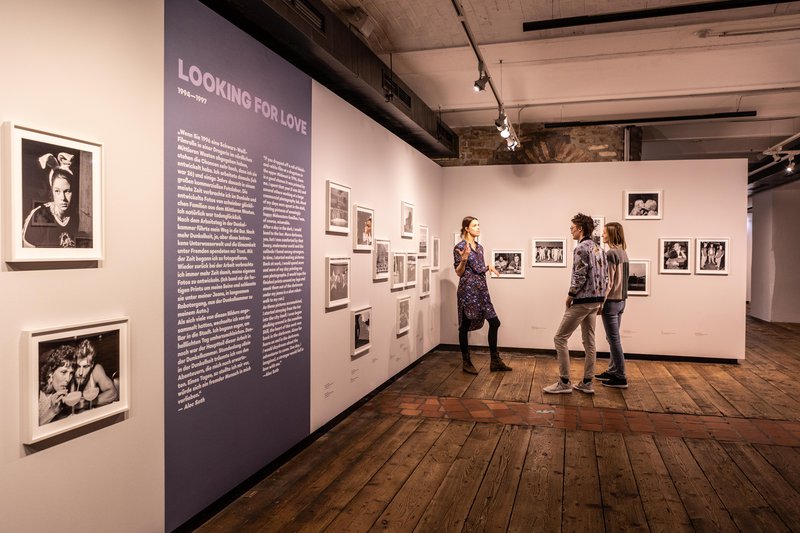 Exhibition view Alec Soth. Photography Is A Language © KUNST HAUS WIEN 2020, Photo: Barbara Nidetzky
Lecture From Here To There
The highlight of #ClosedButActive for Alec Soth is the recording of Alec Soth's lecture, which the artist held for 300 people the day after the opening of his exhibition at KUNST HAUS WIEN on 27 February 2020. Due to the great interest, it took place in the lecture hall of the MAK. The film is available free of charge for the duration of the exhibition's closing time.
"Here Alec Soth talks about his beginnings in photography, he talks about the ups and downs of his career and gives insight into his photographic approach. The artist explains why experiments and playing are so important to him. In a particularly enlightening way, he talks about his personal development with regard to working with people - and how his idea of distance has changed to a perception of space between himself and his models." - Verena Kaspar-Eisert, curator of the exhibition Alec Soth. Photography is a Language
 Alec Soth © KUNST HAUS WIEN 2020, Photo: Barbara Nidetzky

PHOTOBOOK AND SERIES "LOOKING FOR LOVE"
When Alec Soth was in his mid-20s and anything but famous in the 1990s, he earned his money as an employee in a photo lab. It was still the era of analogue photography and Soth spent most of his time in the darkroom. At the same time, under the cover of the darkness of the night - and later, more courageously, during the day - he set off in search of the interpersonal, of love, accompanied by his camera. It was not until 2012 that Alec Soth published the book Looking for Love with the footage from this period, which is unfortunately out of print today. 15 shots of the series can be seen in the slider at the top of this page. The text of the book written by Soth ends with the lines: For hours alone in the darkness I dreamed of the adventures that awaited me. One day, I imagined, a strange person would fall in love with me.
Recommendations for a virtually available, in-depth examination of Alec Soth's work: