Susan Meiselas
Mediations
Opening: Wed, 15.09.2021, 19:00
US photographer Susan Meiselas has been addressing pressing social and political issues since the 1970s. Her work, a comprehensive show of which is now being presented in Austria for the first time, revolves around documenting wars, revolutions and humanitarian crises and exploring issues such as cultural identity and feminism. The solo exhibition at KUNST HAUS WIEN features Meiselas' early series Carnival Strippers (1972–1975) and Prince Street Girls (1975–1992) as well as the installation Mediations (1978–1982) on the Nicaraguan revolution. Also showcased at the exhibition is her current series on women's refuge shelters in the UK. A Room of Their Own (2015–2016) comprises photographs of the shelters as well as accounts by the residents themselves and some of their personal items.
Nicaragua
Susan Meiselas became known through her photo reportages on the Nicaraguan revolution. From 1978 to 1982 she documented the uprising of the Sandinistas against the then president Anastasio Somoza Debayle. Some of her photographs, foremost among them the "Molotov Man", became iconic media images and shaped the way the Latin American revolution was perceived in the West. The exhibition illustrates how such motifs were picked up and reproduced in various contexts.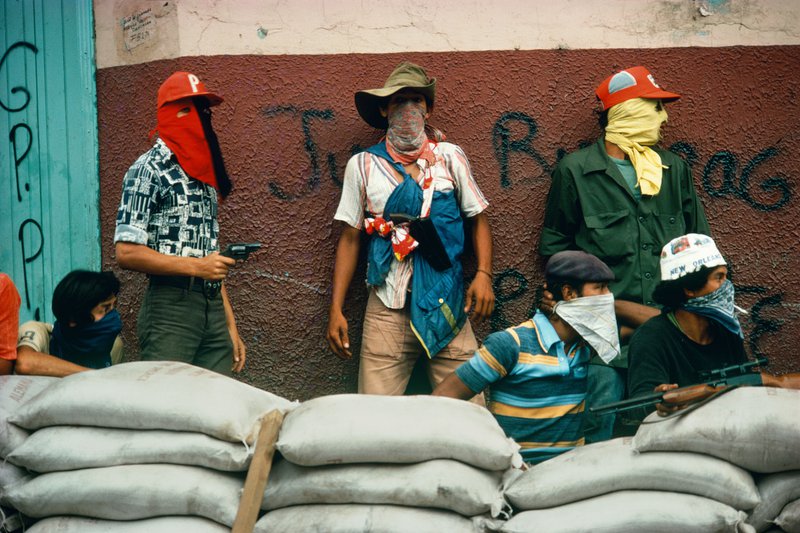 Susan Meiselas, Muchachos await the counterattack by the National Guard. Matagalpa, Nicaragua, 1979 © Susan Meiselas / Magnum Photos
Carnival Strippers
The role of women has been a focal point of Meiselas' work ever since the 1970s. In her first major photographic essay entitled Carnival Strippers (1972–1975), she showcased the working conditions of women who earned a living working as strippers at fairs in New England. She combined her photographs with audio recordings of the women, their clients, and their managers. In this project Meiselas depicts the reality of life for these protagonists and lets them tell their own stories, thereby strengthening their feeling of self-worth and their personal identity.
Prince Street Girls
For the series Prince Street Girls, she accompanied young girls in Little Italy, New York City over a period of seventeen years – from childhood to puberty and on into adulthood. The photographs illustrate the gradual changes in their lives, their bodies, and their place within society.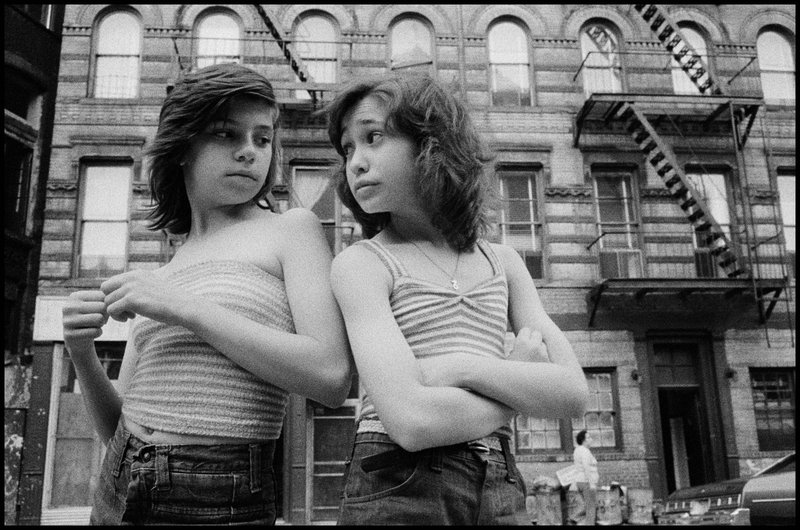 Dee and Lisa on Mott Street. Little Italy, New York City, USA, 1976 © Susan Meiselas / Magnum Photos
Archive of Abuse
In her series Archive of Abuse Susan Meiselas addressed the issue of domestic abuse. In the early 1990s, the photographer was invited to support an awareness-raising campaign in San Francisco on the subject of domestic violence. Meiselas used material from police reports to focus on documenting the crimes, both visually and in text. The collages created in this way were posted in public spaces to raise people's awareness of the many different forms of violence towards women as a structural phenomenon.
Kurdistan
Meiselas' starting point for her long-term project Kurdistan was the documentation of the genocide perpetrated against the Kurds by the Iraqi regime under Saddam Hussein in northern Iraq in 1988. She created an archive that preserves a people's cultural memory and the chequered history of the Kurdish diaspora. The multimedia project comprises photographs, videos, documents, and oral accounts compiled by the artist over a period of more than thirty years. Also incorporated into the exhibition are the results of a workshop that Susan Meiselas is holding in September 2021 with Kurds who live in Vienna.
Photographs of 20-year-old Kamaran Abdullah Saber are held by his family at Saiwan Hill cemetery. He was killed in July 1991 during a student demonstration against Saddam Hussein. Kurdistan, northern Iraq, 1991 © Susan Meiselas / Magnum Photos
Biography
Susan Meiselas was born in Baltimore, Maryland, in 1948 and has been living in New York City since the 1970s. Meiselas joined Magnum Photos in 1976 and has worked as a freelance photographer ever since. Her photographs have been shown in numerous museums and at solo exhibitions, most recently at Fotografie Forum Frankfurt in 2016 and, in 2018, at the Jeu de Paume and the San Francisco Museum of Modern Art; they also feature in many important collections around the world. Susan Meiselas has been awarded the Robert Capa Gold Medal, the Hasselblad Foundation Award and the Deutsche Börse Photography Foundation Prize, among others. The exhibition is a joint collaboration with C/O Berlin and is to go on show there in spring 2022. 
---
Exhibition Programme
INTRODUCTORY TOUR
Experience the highlights of our current photography exhibition in a compact, interesting and informative way.
SAT 20.11., 15:00
Duration: 60 minutes
Price: Tour fee € 3,– plus entrance fee
 
Limited number of participants, registration required: anmeldung@kunsthauswien.com
Conditions of participation according to current Covid 19 protection measures
---
Curator Verena Kaspar in conversation with Susan Meiselas
THU 16.09.21, 6 pm
In English
Limited number of participants, registration required: anmeldung@kunsthauswien.com
Conditions of participation according to current Covid 19 protection measures
If you missed the Talk here you can follow the Record.
---
Book Presentation
Leo Kandl – Facing Iran
WED 13.10.21, 6.30 pm
In German
Limited number of participants, registration required: anmeldung@kunsthauswien.com
Conditions of participation according to current Covid 19 protection measures

---
Panel Discussion - cancelled
also known as/akaKURDISTAN.
Geschichten eines Volkes ohne Staat
TUE 23.11.21, 6.30 pm
In German
---
Panel Discussion - cancelled
Solidaritätskomitee Nicaragua.
Österreichische humanitäre Mission 1978–80
THU 27.01.22, 6.30 pm
In German
Limited number of participants, registration required: anmeldung@kunsthauswien.com
Conditions of participation according to current Covid 19 protection measures

---
Curator's Tour
wth Verena Kaspar
THU 14.10.21, 5 pm
THU 20.01.22, 5 pm
In German
Limited number of participants, registration required: anmeldung@kunsthauswien.com
Conditions of participation according to current Covid 19 protection measures

---